March 3, 2017
FP is the most reliable identifier for banks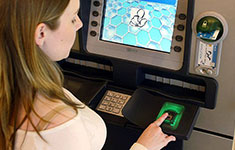 In February Sonda attended the 2-nd conference 'Remote authentication and biometrics in the financial industry: regulation, technology, solutions' held by Banking Review magazine. The goal was to reach understanding of how, where and when the biometrics could be used in banks.
More than 150 participants including representatives from the Ministry of Telecom and Mass Communications, the Bank of Russia, commercial banks attended the forum. The leading developers gathered to determine how to make reliable remote authentication for banks and what biometric technologies to choose.
The program of the conference was very informational and consisted of two sections. The first one covered issues of legislative regulation of biometric applications in the financial services industry and the specifics of the regulatory framework, conditions of wide introduction of biometrics. The second section included practical cases of implementation of biometrics in banks and finance companies.
In the second part Anatoly Bokov, representing Sonda, made a report 'Use of systems of fingerprints identification in real time in banks'.
In his report Anatoly underlined: 'Primarily the rapid biometric identification is in a great demand in the government and law enforcement agencies, but not only there. Civil applications including those of banking service use the remote authentication more and more often. As for banks they use the fast remote authentication to check borrowers in order to identify fraudsters who are trying to get loans on other people's documents. Moreover, only by means of fingerprint identification we could achieve the greatest effectiveness to control borrowers. Numerous independent international tests show that only fingerprints allow to ensure the reliable and accurate identification above 99% on multi-million databases'.